New era minimalist design of Cline re-launches a several new sunglasses.
The pring and summer of 2011, following the lead of the Original retro sunglasses trend, Cline re-launch of several new designs of sunglasses, refined fashionable style most vividly, Cline once again a new era of minimalist style.
AUDREY Series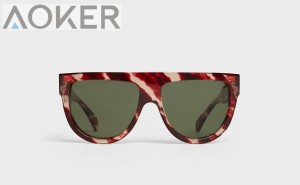 Inspired by the elegant and charming female model, "Human Angel" Audrey Hepburn •. Round acetate frames and feminine, slightly upturned at both ends, reflecting the contemporary women's independence. Cline continued sunglasses unique decorative silver metal discs, which are located on both sides of the frame and foot joints. Golden CLINE logo is still hidden inside the temples. The series has flesh-colored, blue, khaki, taupe, cigars, black and other frame colors to choose from, each with different shades of polarized lenses.
LADY Series
Inspired by the 1960s, combines the retro feeling and modern attitude. Slim light shape, oval resin frame, signature silver metal discs decorated with mirror foot in front of the frame connection. The difference with the other series is that , golden CLINE logo  is in located on the temples. On the outside, it displays a symbol of modern women's courage and determination. The series has two kinds sizes, small and large frame sizes, more bright summer colors selected from red, yellow to green, cigar color and so on.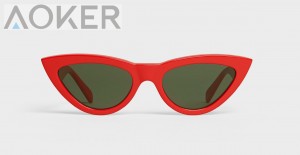 ZZ Series
The sunglasses full of rock and roll spirit, breaking the conventional design, rectangular resin frame angular. Generous flat frame shape, showing almost at right angles to the top, showing a strong style and uncompromising spirit. To further highlight the appearance of visual impact, the iconic silver metal discs disappeared from the front frame, just the foot in both sides of the mirror, the mirror inside foot is engraved golden CLINE logo. The series also two kinds sizes, small and large frame sizes, and olive, dark blue, cigars, black and other colors to choose from, with different shades of polarized lenses. Continuing highly sought after celebrities and models Original series, I believe these three new series for Cline favorite type of retro-style minimalism will provide more choices for people, This style will be one of the most essential fashion glasses accessory  during the spring and summer of this year.