When I was got my first buffalo horn eyewear brittle, my heart was break. Not because of the buffalo horn eyewear is expensive, because I really love it comfortable wearing, beautiful natural horn, touches and feels refreshing, and friendly to human's skins.
Until we know the features of buffalo horn eyewear, then we will know how to maintain our buffalo horn eyewear.
The ONE and ONLY
As all horns in nature have differences in color, pattern and striations, ranging from subtle to significant, each pair of natural buffalo horn eyewear is unique and the one only. Horn is one of the earliest materials used to make eyewear, natural horn is varied in color and striations, each piece of buffalo horn eyewear displaying stunning striations that make it a distinctive statement of timeless beauty.
Comfortable Wearing
There are different materials used for eyewear, the best eyewear materials should come close to your eyes and face. Buffalo horn is latex-free and hypoallergenic, very friendly to human's skins, an excellent choice especially for people with skin sensitivity or contact allergies.
Touches and feels refreshing
Natural horn has the remarkable quality of adjusting to the skin temperature, allowing for an almost seamless feel. The pleasant warmth distinguishes buffalo horn eyewear from the standard manmade materials used in traditional eyewear lines and offers a sensual frame-wearing experience, a big plus for many luxury eyewear wearers.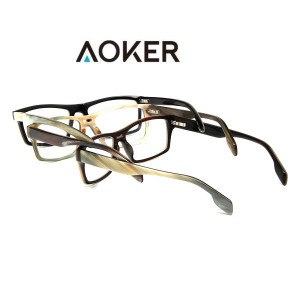 Time-worn elegance
As buffalo horn is a purely nature material, it has the extraordinary ability to age gracefully with use. The gradual evolution and organic patina embody the very characteristics cherished by selective eyewear wearers.
Eco-friendly
Sourced from sustained domesticated herds, the buffalo horn eyewear we use have minimum negative impact on the environment. Leftover horn chips and shavings from the production process are recycled as fertilizers in agriculture. The humble horn wastes are actually a first-rate quality manure as horn is an excellent source of slow release Nitrogen.
Longevity
As with all items of value, your buffalo horn eyewear need to be maintained to keep them best. Horn is a durable product of nature, if maintain it for correctly, can last for many years.
We suggest that it had better to let owners know how to taking good care of their buffalo horn eyewear. Caution refers :
-No pressing, no pushing
-No dropping
-Avoid touching from water
-Protect horn by lanolin cream
Use the Vaseline oil moisturized the buffalo horn eyewear to prevent it brittle.